How to Implement Employee Experience Management eBook
Attracting and retaining top talent has never been more important – or more difficult. Employees have more choice than ever before over who they work for. Keeping them happy and motivated requires HR teams, and the wider organisation, to focus heavily on the employee experience. How can they deliver the right, personalised experience to everyone in their organisation?

This guide aims to help on both a strategic and tactical level. It introduces the concept of employee experience (EX) and employee experience management, explaining the factors that go into improving EX before outlining how specific tools, processes and frameworks will help deliver success.

Download today to discover:
The fundamentals of employee experience
How does effective employee management look like
How to build an employee listening framework
The importance of a progressive workplace environment
The role of compelling and engaging communication
Utilising employee experience tools efficiently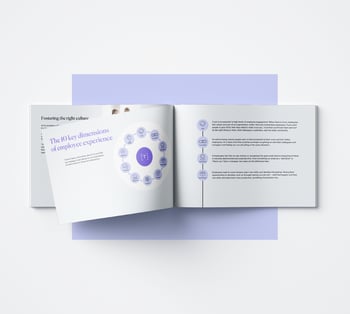 The fundamentals of
employee experience
The employee experience (EX) is what it's like to work somewhere since the day they are hired. It covers everything from how an employee is treated by their boss to whether they have the technology and training to do their job.
Key elements of
employee experience
management
Employee surveys and feedback exercises or identifying key motivators and pain points are two of the key elements that build the process of an effective employee management.
How to build an employee listening framework
Base your framework on frequent listening and taking timely action on results if you want it to fly. There is a range of options for employee listening such as annual surveys or pulse surveys.