How Managers Become Leaders
Download your in-depth guide to transforming line managers
into successful leaders
Even though the terms are often used interchangeably, there's an enormous difference between the skills that managers and leaders each need.
Research by Gallup estimates that just 1 in 10 people have the
talent to manage. An even smaller percentage have the natural skills to lead. However, the positive news is that leadership can be learnt, as we'll explain in this guide. It requires the commitment of the leader themselves, the support of HR and a willingness to listen and act on feedback from everyone in the team, from the leader's boss to the most junior employee.
Download our in-depth guide today and discover how HR managers can:
Spot leaders of the future in your organisation
Develop strong leadership communication
Provide the tools and training needed to develop successful leaders
Build leadership skills throughout your organisation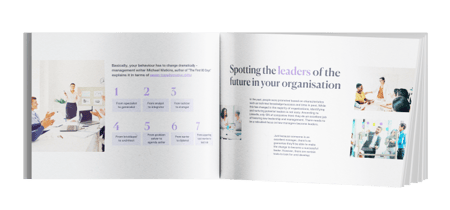 Spotting the leaders of the future
Just because someone is an excellent manager, there's no guarantee they'll be able to make the change to become a successful leader. However, there are certain traits to look for and develop.
Develop strong leadership communication
Great leaders have an understanding of which message and channel will work best when communicating to a specific person or particular situation.
Tools and training to develop successful leaders
45% of managers say they never receive any formal training on how to lead others and improve team efficiency or morale. HR therefore needs to step in to help bridge the gap in training.