What problems will this toolkit solve?
"We're not sure what to measure"
Discover how to map what you're doing well as an employer and which areas need work
"All our employees have different experiences"
Learn about the major moments in the employee lifecycle
"We're losing employees just after onboarding"
Dig deeper into one area and discover where you're falling short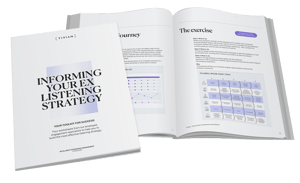 Complete the form to get instant access to the toolkit, which includes four worksheets from our employee engagement specialists to help you to build the most effective listening strategy.
Learn how to optimise your listening strategy and get actionable feedback from employees
By carrying out these exercises, you will have:
The information needed to inform an employee listening strategy which is bespoke to your organisation
A list of pain points detailing where you need to improve the employee experience
A deep dive into problem areas of the employee lifecycle


Who is this toolkit for?
Employee Engagement practitioners
Employee Experience leads
People Analytics teams
OD, HR, Internal Communications
Leadership and anyone who oversees employee listening in their workplace
About Tivian
The intelligent experience management leader
Through advanced analytics and cutting-edge AI technology, Tivian helps great organisations capture and harness experience data to drive business listening, deeper insights, and better decision making.
Tivian's intelligent experience management platform increases corporate effectiveness and enables a smarter business world, empowered by insight.
Built on 20 years of experience in enterprise feedback management, Tivian provides over 400 customers in 35 countries with the ability to take action and achieve their objectives.

Trusted by: